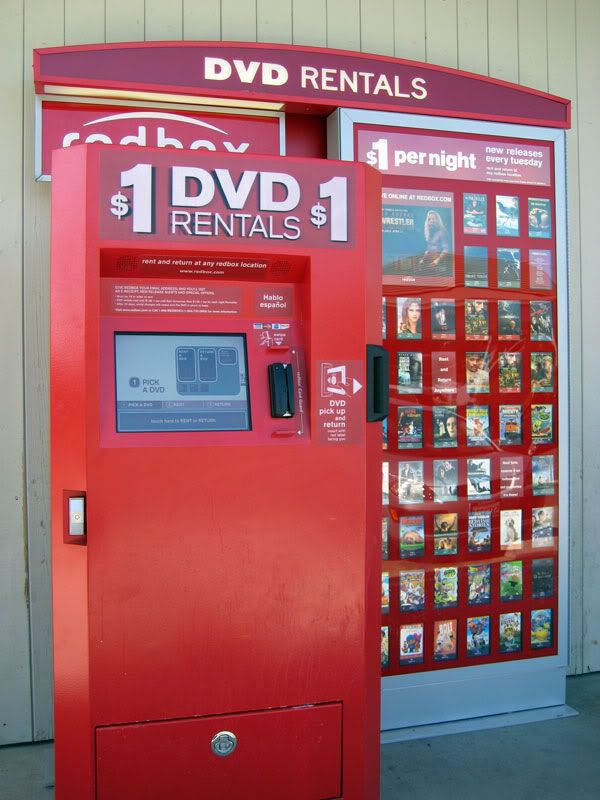 Many of you out there are probably old pros at using Red Box. I never had any aversion to them, especially because they are so convenient for me, but I never had any reason to use them because I have my handy-dandy Netflix. However, what is a girl to do when she forgets to load her queue with an awesome line-up of movies and she's trying to save her pennies and avoid the $4.99 or $5.99 On Demand option? Well, she scours the Internets for a free Redbox code and decides to FINALLY check them out. Unbeknownst to me, they also have a feature on their site that will tell you which Redbox has the movie you are looking for. While I wanted to rent Letters to Juliet, I knew I didn't want to subject my husband to that level of estrogen (c'mon, in 6 months he'll have a house FULL of it, totally outnumbered!), instead we rented Prince of Persia and it didn't suck as much as I thought it would. I actually liked it. And I'll totally do a full review if you would like me to, but I'm just not sure if any of you out there actually read my HDMRs and benefited from them. Anyway, the entire process was ridiculously easy (even returning it!) and best of all, it was free. My only complaint was that while I was waiting in line to use the machine the guy before me was not only taking forever, but kept farting (LOUDLY) like he was having some serious issues. Ok, now if you have to do that, I understand that it is natural and we were in the open air, but really dude? Really? What are your thoughts on public flatulence?
Reunion Tower
Ok, first of all, let me break it down for you. We were going there to celebrate Primo's birthday, and as some of you loyal followers know, he is a bonafide chef. I like celebrating his birthday with him because not only do we have an excuse to get dressed up and go to a fancy restaurant, but we get to talk about the food and wine like we know what we're saying, because quite frankly, he does know what he's saying, sometimes I just get lucky and Don has actually learned about food and wine. Being pregnant, my tastes have changed and my olfactory senses have heightened which almost puts it on the same level as Simon's. He booked a reservation for 8, 7 adults and a child. Yes, we took Mari with us. We knew she would probably want to taste some of the food, but would probably want her own food and since we were splurging, she was treated to McDonalds (don't judge). Yes, we are those people. We were all dolled up and due to some heavy traffic and such, our 6:30 reservation was actually pushed to 7 and when we arrived, our table wasn't even ready. We had to wait on the floor level lobby because children are not allowed in the bar area (which we later discovered immediately greets you when you walk off the elevator.
We are seated at 7:10 and on the way up, are happy to learn that the $10 valet we used was discounted to $5, and the parking lot would have cost $5. Score for not having to walk up a hill! We piled ourselves into a round booth that fit 5 adults and Mari at the corner. We were crammed in there. For some reason, the acoustics in there were horrible, so it made it difficult to hear anyone that you were talking to. We perused the menu when we asked the server if they had a sushi menu. Why they didn't bring it out with the other menus, I have no idea. Nothing on their sushi menu seemed remarkable, except for the homemade pickles. Also, they didn't have any fantastic non-alcoholic drinks. Hmmm...We FINALLY ordered our meal at 7:45, which granted, it took us a couple of minutes to decide our entire meal, since they didn't want to just take our starters, but rather order our entire meal at once for timing purposes. I asked for the homemade pickles and totally threw out caution and ordered hamachi sashimi with a jalapeno. Don asked for the crab and lobster shu mai. I must say, THANKTHELORDBABYJESUS that we stopped and bought Mari the McDonalds because her remaining fries tied me over by the time we got our food. Which was close to 8:40!!! I'm all for fresh, but seriously, how long does it take to cut a sliver of yellowtail tuna and slap it on a one inch bed of rice with a jalapeno slice? The most complex dish at the table would have been the fresh calamari, but I hardly think it would have taken that long. And unfortunately, when Don got his shu mai, it was too, too salty and soggy? Seriously, the microwave shu mai we have at home sometimes was better. blech! However, the calamari was spot on and flavorful. My sushi was a dream and the pickles were fun too!
By the time our main course came out (close to 9:30), Mari had already finished Cloudy with a Chance of Meatballs and was well into Alice. She was being such a good kiddo considering we were sitting at 2 hours past her bed time. Warning: if you order the sea bass from their menu, it is an ENTIRE sea bass. They carve it for you at your table and it is quite a sight. If you aren't prepared for it, though, you will totally be freaked out by it. I ordered the peppered beef and it would have been perfect if I could have ordered it rare. However, I since I cheated with the sashimi, I stuck with the plan on the beef and had it cooked medium well. It was still good, just a tad chewier than I liked. I sampled the lamb and it was good. Don's curry was a COMPLETE and total bust. poor guy! His entire meal was awful! :( His wine selections were good and all smelled like they had a fabulous bouquet! My side dish, the corn with assorted mushrooms (unagi and shitake) and red jalapeno peppers was unique and spicy. It was a bit spicier than I wanted it to be, but Don enjoyed it. Simon's duck was too overdone, especially because of the way they had prepared it. And the aforementioned sea bass...Don said, "they somehow managed to turn sea bass into trout" *OUCH*
We notified them of our disappointment in the food, which they apologized over and over again. They took off those food items from the ticket and gave us free dessert (which was also a disappointment, aside from the baked alaska!). It was 10:30 when we made it to our car, which was wonderful because we were able to spend so much time with our loved ones (in a really, really confined space), but sucked because it shouldn't have taken that long. All-in-all, I was really disappointed by our culinary experience and their bathroom (which were a wreck, which they later cleaned, but they shouldn't have to be prompted. It was like being at a bar on a Saturday night that's how dirty it was). The view was incredible. The staff was friendly, heck, the manager even found a band-aid for Mari when she got a bite while we were there (as did I, so how in the world were there mosquitoes that high up?). The wines were superb. The food, blech! I hate having to spend money (and at full price, THATKINDOFMONEY) on food that I know with Simon's help, we could make at home.
I would recommend this place as a first date, quick meet with friends for drinks and sushi. The sushi looked spot on and I tasted a california roll that was good. Not divine, mind you, but good. I give this a sideways thumb, since I can't commit to giving it a complete and total thumbs down. But I do give our little one two thumbs up with the way she behaved at the restaurant and for being an overall trooper.
*I was not paid by either to write a review for either item mentioned today. These are just my opinions for you all to take or leave.