Where in the world have I been? Seriously, I did such a great job of keeping up with my blog, posting my minimum of 3 times a week, but alas, life caught up with me. It's nearly been a week, so what have I been up to??
Well, I've been nursing an ailing foot. I don't exactly know how I tweaked it and exactly what I did, but the pain is in the arch, on the outside, and sometimes resonates to my ring toe. I thought, hmmm...plantar faciitis, but nope, that wasn't it. My massage therapist says my calves are overworked, probably due to the hills I ran. She did her best to work out the kinks and I did my very best to ease the pain, but sure enough, every morning, I woke up hobbling while my feet woke up. There wasn't the pin and needles feeling, it was an actual "hurt" feeling. Only 5 weeks to race day and I didn't want to be injured. So...I bypassed my long 18-22 miler and opted to rest it. Instead, Mari and I went for a light 7.5 mile jog on Sunday morning while my beloved played golf at the fabulous Craig Ranch. (Which by the way, he said was incredibly amazing and very generous of our friend to invite him to go!)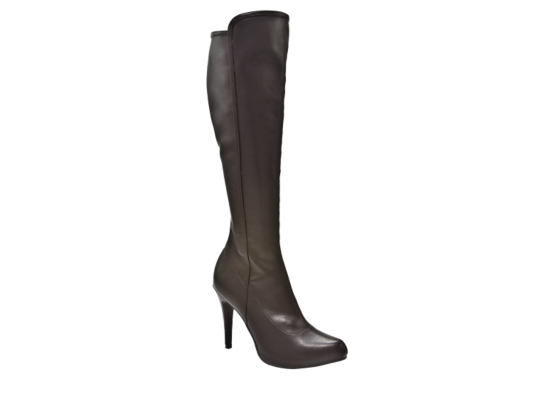 To reward myself for my run, I headed on over to DSW to browse. I fell IN LOVE with a pair of Chinese Laundry boots. So sassy and fun and I think they are absolutely perfect for NY!! I didn't buy them, I will go later on this week. I told myself that if I still wanted them a few days later, then I could have 'em. How exciting. Best of all, they made my calves look amazing! Bonus: they didn't have that super skinny annoying pointed toe in some other boots that I love, but my wide feet don't work in them. So, yes, these are fairly comfy.
That night, we headed on over to Mass and while it was totally rewarding, I miss going at our usual time and seeing our church friends. Hopefully we'll get to see them in a couple of weeks when we're back in town.
I forgot that on Saturday I was waaaay productive and super creative. I worked on the HOA website, I edited some pictures, and I made some fun happies for my neighbor who is expecting a baby girl. This was my 2nd attempt at a burp cloth and I went a little out of control with the bow-making. I made 2 pinwheel bows and curled about 2 yards worth of ribbon for korker bows. I really, really enjoyed making them and I really don't see myself buying bows for her anytime in the future. We're going to the Tech v. K-State game, so she had to have a purple and white bow. (I know, I know, I'm a die hard Tech fan, but the deal is that our daughter cheers for the home team when we go to an event where the house is divided. Good thing she knows how to do her guns up! Just not on command.) Anyway, here she is modeling her korker bow. How amazingly adorable is she???
In exciting news: we saved over $60 at the grocery store!!!!! Many thanks to my MIL for clipping coupons and sending them and to Kroger for sending us coupons based on our shopping habits. I was skeptical that it would pay off, but man, their coupons saved us a TON of money!! It was awesome. We saved 30% (yeah, we buy a lot of groceries) and that was the most we'd ever saved on our bill. Needless to say, I was stoked and so was Don. That savings will help to pay for our fancy schmancy date coming up.
Also, the day before yesterday, the house across the major street from us (the alley, the street, then the other alley) was ON FIRE!!! There were a million fire engines, police, and ambulance there. We saw the fire glowing through the trees and could hear them using chainsaws on the roof. The smoke engulfed our backyard and most of the alley too. It was exciting and scary. I really felt bad for that family and I hope they were ok.
Hmmm...what else. Oh, and my neighbor had her daughter. Welcome to the world baby Ava!! She had her at home in the water and I actually talked to her and baby and mom are doing well and mommy looks REALLY great! She was 8lbs, 6 oz. Congrats Jodi!
Mari Update: She's a bonafide climber!!! Seriously, she climbed up her little playhouse slide at school. She's figured out how to climb onto her chair, balance and climb up onto the ottoman, then onto our couch, then the top of the couch. She's so fast and quite the little daredevil. She has an incredible grip on things too! She starting to sign "hungry" with much more frequency. She loves going to her school and totally loves her friends there. This week a new baby started and he's quite colicky. Thank God Mari wasn't a colicky baby. She's actually had a tough time dealing with the screaming baby, but she isn't the only one. All of the others are trying to adapt just the same. Oh, and speaking of my craftiness...I made her a homemade wubanub. Don had an original beanie baby ocotopus. It is bright and fun and she loves it. I sewed her pacifier on the end of it and she seems to really enjoy it. She doesn't have a preference for this one or her frog yet, but she seems to enjoy it just the same. So that's good. Oh, and she really likes picking up her little cereal bits of food. I'm totally impressed!
That's about it. That's what I've been up to, that and lots of catching up at work. It's been really busy there and totally helps the day go by so I don't miss her so much. Don and I are using the Cozi.com calendar to help stay organized and so far we are enjoying it. If you haven't heard of it, it is basically an online calendar to help you stay organized. There's a cool feature where you can send a message to your phone or even your grocery list! Love it!
As far as running, I think another day of super rest and I should be fine. I ran about 3 miles today and it felt good, but my foot is still tender. I'm going to opt out of the 6 mile run and hill training session to nurse it. Don made a good point: Do I want to train more, or do I want to run injury free on marathon day? I opt for the latter. I got my official handbook in the mail yesterday and it's all so real. Wow!! I can't believe it. Seriously, 5 weeks to race day and I can't wait. There's still time to donate if you so desire: http://www.biancavalenciano.com.
Have a great weekend and go Tech!! (p.s. I'm getting my hair done tomorrow, I can't wait.)